TSMA Special Event
TSMA Special Event
Wednesday, September 28, 2022 (12:00 PM - 1:00 PM) (CDT)
Description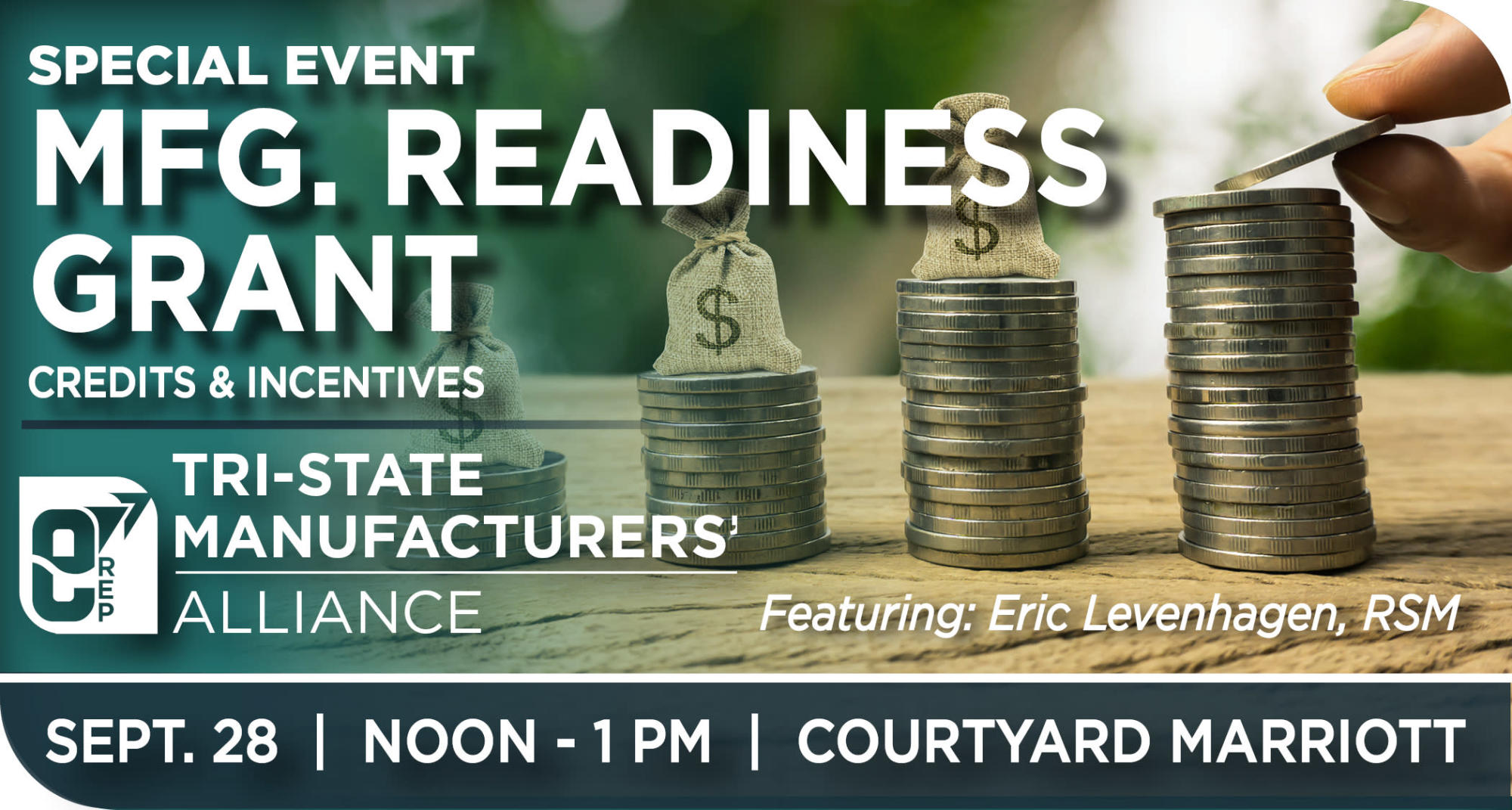 Join us in welcoming Eric Levenhagen, CEcD Senior Manager, National Business Credits & Incentives with RSM US LLP for a TSMA Special Event with lunch provided.
RSM can partner with Alliance firm, Harding Shymanski, to provide a 30-minute overview of local/state/federal incentives available in the Indiana/Kentucky region. CPE can be provided.
RSM has spoken several times in Evansville in the past 7 years and set up Federal Work Opportunity Tax Credit (WOTC) value add to over 20 companies in the region. RSM will highlight new Indiana opportunities with the Manufacturing Readiness Grant which is up to $200,000 cash reimbursement for a 1:1 match on new eligible automation equipment as this has been a popular program that RSM has guided 40 companies to $4 million cash grant awards out of $18 million issued by the State of Indiana.
RSM can summarize existing Indiana/Kentucky programs with current events so that companies are prepared for the next expansion analysis.
Eric Levenhagen will be leading the conversation about incentives, grant opportunities (i.e. Manufacturing Readiness Grant) and more.
The first 75 people to register (limited to one registration per company) will join us at the Courtyard Marriott Evansville East (8105 East Walnut Street). Registration will stay open until capacity is reached.
Find more about Eric Levenhagen, below:
Eric brings more than 18 years of economic development experience to his role as a senior leader with the firm's state and local tax practice. He consults with clients on expansion plans to help identify and secure available credits and incentives. He finds additional value added in special zones, such as Federal Empowerment Zone tax credits and state Enterprise Zones. He alerts companies to new programs, such as the Indiana Manufacturing Readiness Grant that he has guided 40 companies to $4 million in cash grants out of $18 million that the state has issued. He serves a broad range of industry sectors including manufacturers, wholesalers, retailers, and service companies. Prior to joining RSM, Eric was a senior project manager for the Indiana Economic Development Corporation (IEDC) Business Development team. During his seven years at the IEDC, he helped secure approximately 10,000 new job commitments on over 80 project acceptances.
Courtyard Marriott
8105 E Walnut Street



Evansville

,

IN

47715

United States



Wednesday, September 28, 2022 (12:00 PM - 1:00 PM) (CDT)
Event will begin at noon and end at 1 P.M. Lunch will be provided.
Categories
*Tri-State Manufacturers' Alliance Events