TSMA Q4 Event: State of Manufacturing...A Deep Dive Into Today's Workforce
TSMA Q4 Event: State of Manufacturing...A Deep Dive Into Today's Workforce
Thursday, October 27, 2022 (3:00 PM - 7:00 PM) (CDT)
Description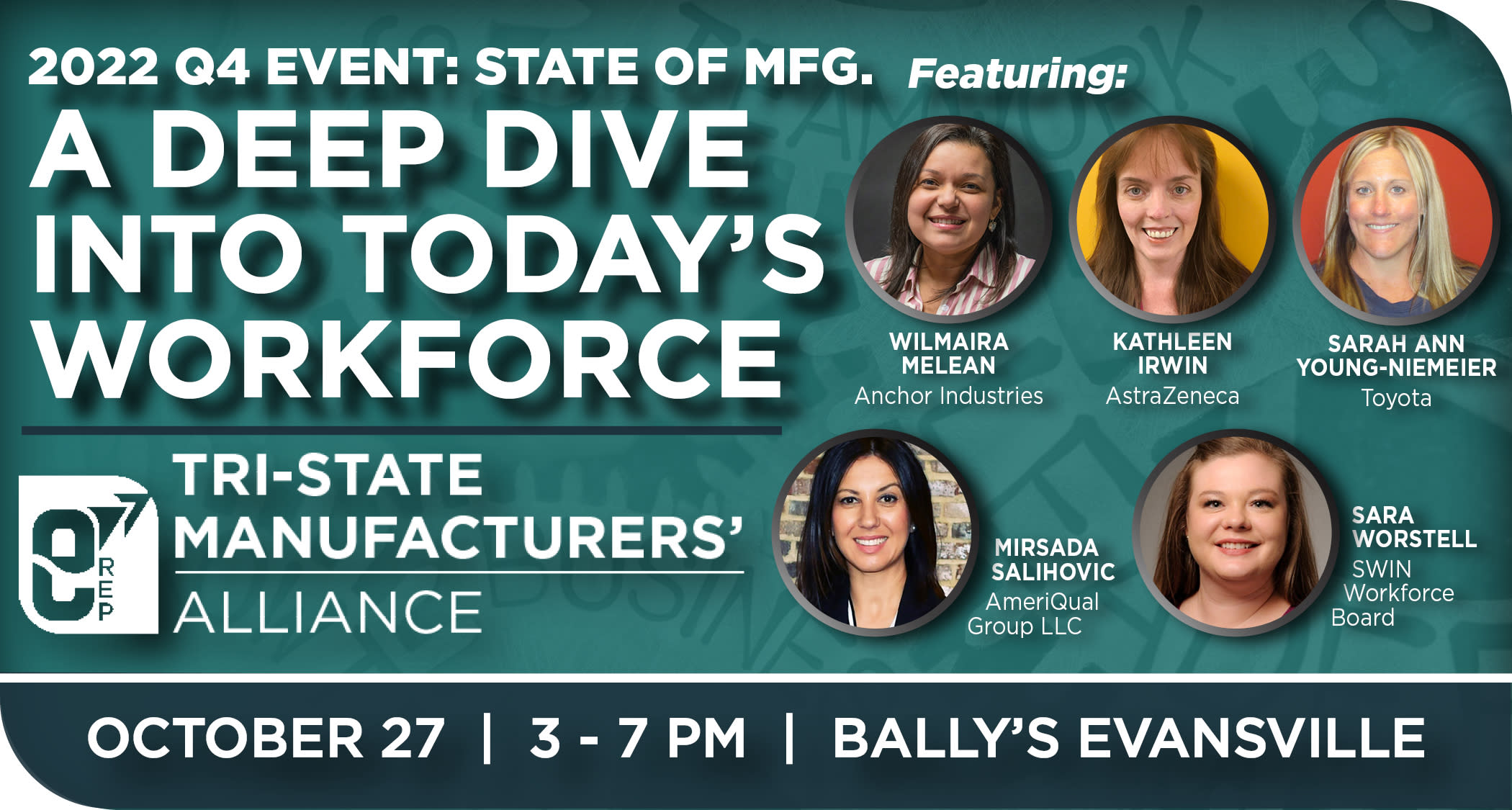 Join the Tri-State Manufacturing Alliance for an in-depth discussion surrounding today's workforce.
The event will feature five panelists who represent a group of our regional manufacturers.
Representation includes Anchor Industries, Toyota, AmeriQual, AstraZeneca and SWIN Workforce Board.
Panel Lineup:
Christen Mogavero, VP of Sales at Anchor Industries
Kathleen Irwin, Learning & Development Lead at AstraZeneca
Sarah Ann Young-Niemeier, Human Resources at Toyota
Mirsada Salihovic, VP of Human Resources at AmeriQual Group LLC
Sara Worstell, Executive Director of SWIN Workforce Board.
The panel will discuss a plethora of topics surrounding today's workforce, including but not limited to:
workforce problems, possible solutions, effective strategies for retaining employees, the need for childcare and on-site capabilities, battling a 'virtual' world, on-site training, technology and more.
Please join us at Bally's in the Riverfront Event Center at 3:00 P.M. with a reception following the discussion.
Agenda:
3:00-3:30 P.M. Registration
3:30-5:00 P.M. Panel Discussion
5-7:00 P.M. Reception
Please have every individual attendee register themselves for an accurate seat count.
We look forward to seeing you at TSMA's Q4 State of Manufacturing: A Deep Dive Into Today's Workforce.
Sponsors
Pivotal Sponsor
Visionary Sponsor
Event Sponsor
Images
Bally's Evansville
421 N.W. Riverside Dr.



Evansville

,

IN

47708-1047

United States



Thursday, October 27, 2022 (3:00 PM - 7:00 PM) (CDT)
Time: 3 P.M-7 P.M. Location: Riverfront Event Center
Categories
*Tri-State Manufacturers' Alliance Events