TSMA Lunch & Learn: How to Rob a Bank Over The Phone
TSMA Lunch & Learn: How to Rob a Bank Over The Phone
Thursday, April 20, 2023 (12:00 PM - 1:30 PM) (CDT)
Description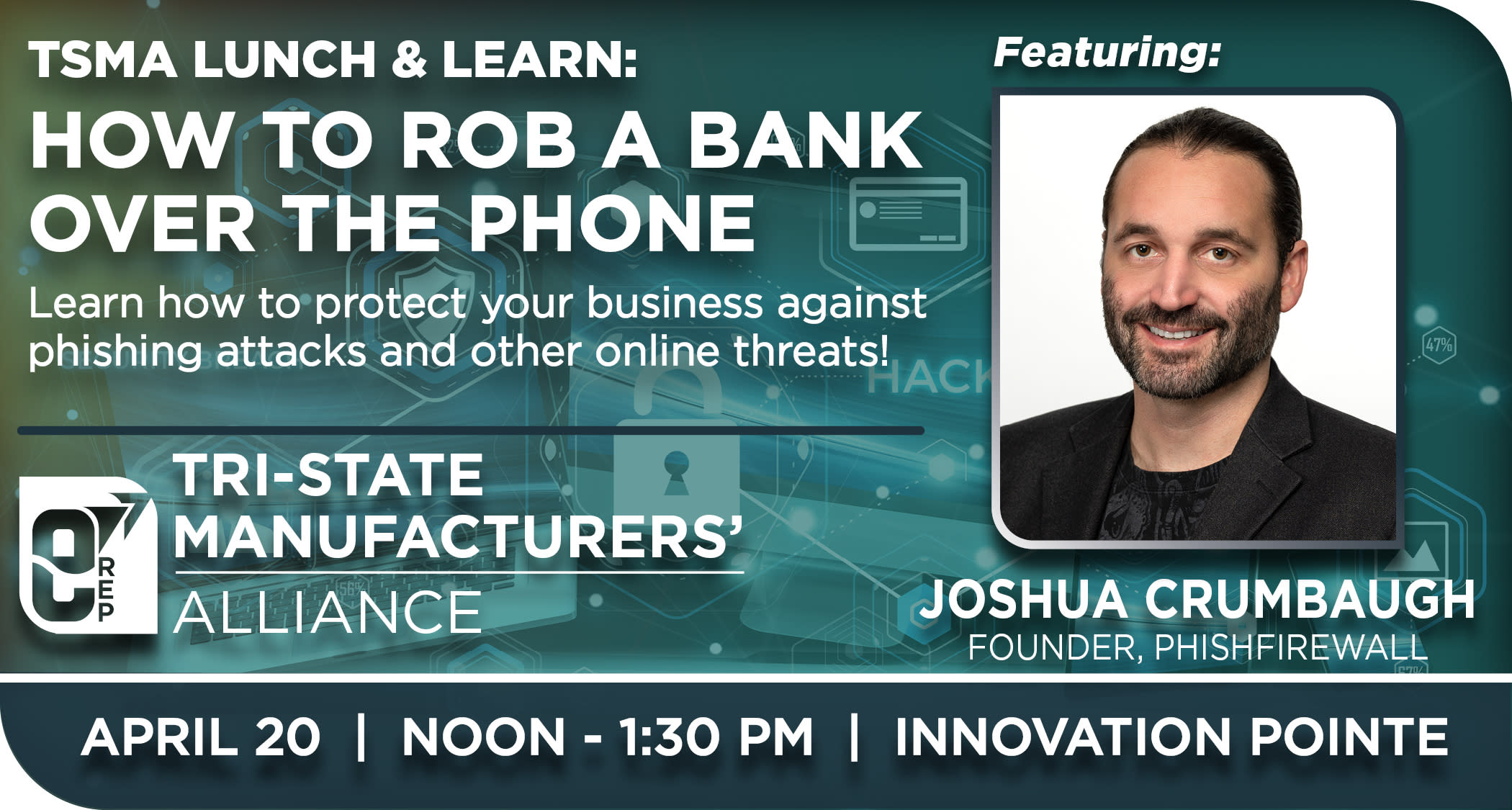 As a renowned ethical hacker, social engineer, author, keynote speaker and entrepreneur, Joshua Crumbaugh has achieved some seriously impressive feats that have left even the most seasoned hackers in awe. With PhishFirewall, the cybersecurity company he founded, Joshua has been able to use his mad skills to help businesses protect themselves against phishing attacks and other online threats. When it comes to hacking and social engineering, Joshua is a straight-up rockstar.
He's remotely taken control of an oil pipeline and talked his way into a bank vault - and those are just a couple of the wild things he's done. As an author and keynote speaker, he's shared his insights and knowledge with audiences around the globe, inspiring others to join the fight against cybercrime. With his unparalleled passion, expertise, and undeniable cool factor, Joshua is a force to be reckoned with in the world of cybersecurity. If you want to stay ahead of the game and keep your organization safe, you'd be wise to check out the talk.
How to Rob a Bank Over The Phone: In this talk, Joshua will share his first-hand account of how he used social engineering to gain access to a highly secure bank vault. He will take you through the steps he took and the tactics he used to trick his way past multiple layers of security and gain access to a room filled with cash and sensitive information.
But this isn't just a story of how he broke into a bank vault. This talk also contains practical advice and tips on how to protect your business from similar social engineering attacks. He will share real audio recordings of the phone calls and interactions he had with bank employees, providing insights into the techniques and strategies that are commonly used by cybercriminals.
As a decision-maker in the manufacturing industry, it's important to understand the real threats that exist and take the necessary steps to protect your business. This talk will leave you with a greater understanding of social engineering as well as cybersecurity attacks and the knowledge you need to safeguard your company against them.
Sponsors
Event Sponsor
Pricing
TSMA Members: $0
Non-TSMA Members: $25
Innovation Pointe
318 Main St.



Evansville

,

IN

47708

United States



4th Floor Board Room
12:00 PM-1:30 PM lunch will be provided
Thursday, April 20, 2023 (12:00 PM - 1:30 PM) (CDT)
Innovation Point
318 Main Street, 4th Floor Board Room
12:00 PM-1:30 PM lunch will be provided
Categories
*Tri-State Manufacturers' Alliance Events