Small Business Liaison Office (SLBO) Event with Mantech
Small Business Liaison Office (SLBO) Event with Mantech
Wednesday, October 11, 2023 (9:00 AM - 11:00 AM) (CDT)
Description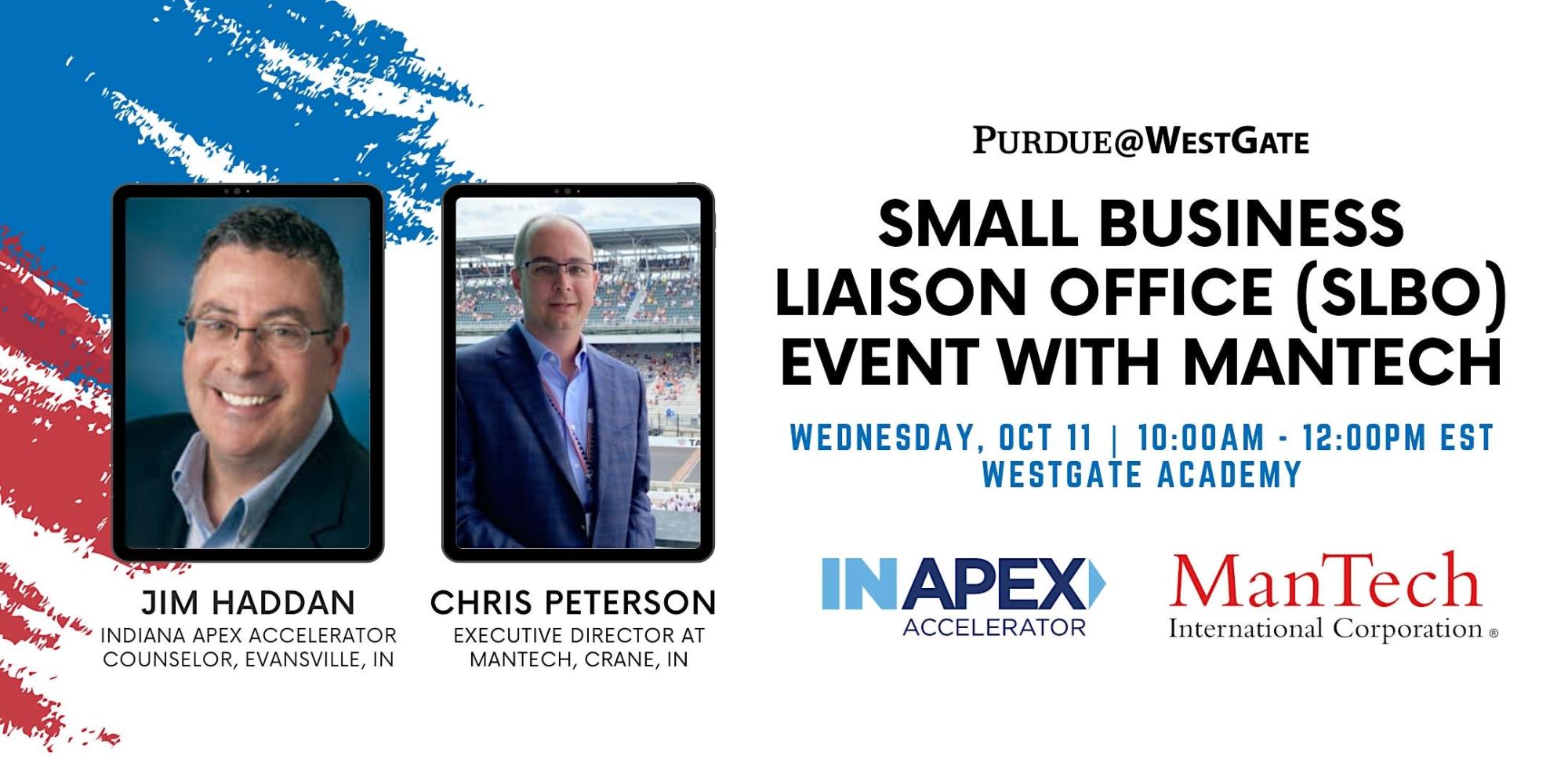 The Indiana APEX Accelerator program in collaboration with Mantech and the Purdue University Westgate Facility will be holding a Small Business Liaison Office (SBLO) event at Westgate from 10:00 AM - 12:00 Noon EDT. This event promotes subcontracting opportunities for SDBs, HUBZone businesses, SDVOSB, WOSBs, and other underrepresented small businesses with the large business SBLO. This event will be a live in-person event on aspects of the small business programs of the United Sates that help new part-time and fulltime SBLOs come up-to-speed on the details of federal small business programs, provide regulatory updates and clarifications for SBLOs and small business specialist and strengthen the network of APEX Accelerators, businesses, DoD and other federal agencies.
Presenters for this event will be Christopher Peterson, Executive Director at ManTech, Crane, IN and Jim Haddan, Indiana APEX Accelerator Counselor, Evansville, IN.
About PTAC/APEX:
The Indiana Procurement Technical Assistance Center (PTAC) is a part of the Indiana Economic Development Corporation and is an APEX Accelerator. We provide procurement technical assistance to help you sell your products or services to the appropriate government agency by offering confidential counseling services and workshops at no cost. The core of our procurement assistance program is counseling and education. Learn more.
About ManTech:
ManTech takes the lead in training next generation cyber warriors, preparing them in tactical response to defeat cyber threats, and in offense-informed cyber techniques that provide insights into where enemies may attack next. Learn more.


WestGate Academy Conferencing and Training Center
13598 East WestGate Dr



Odon

,

IN

47562

United States



Wednesday, October 11, 2023 (9:00 AM - 11:00 AM) (CDT)
Categories
*Small Business Events