E-REP Day at the Statehouse [March 14, 2023 11:00 AM - March 14, 2023 4:00 PM EST]
E-REP Day at the Statehouse [March 14, 2023 11:00 AM - March 14, 2023 4:00 PM EST]
Tuesday, March 14, 2023 (11:00 AM - 4:00 PM) (EDT)
Description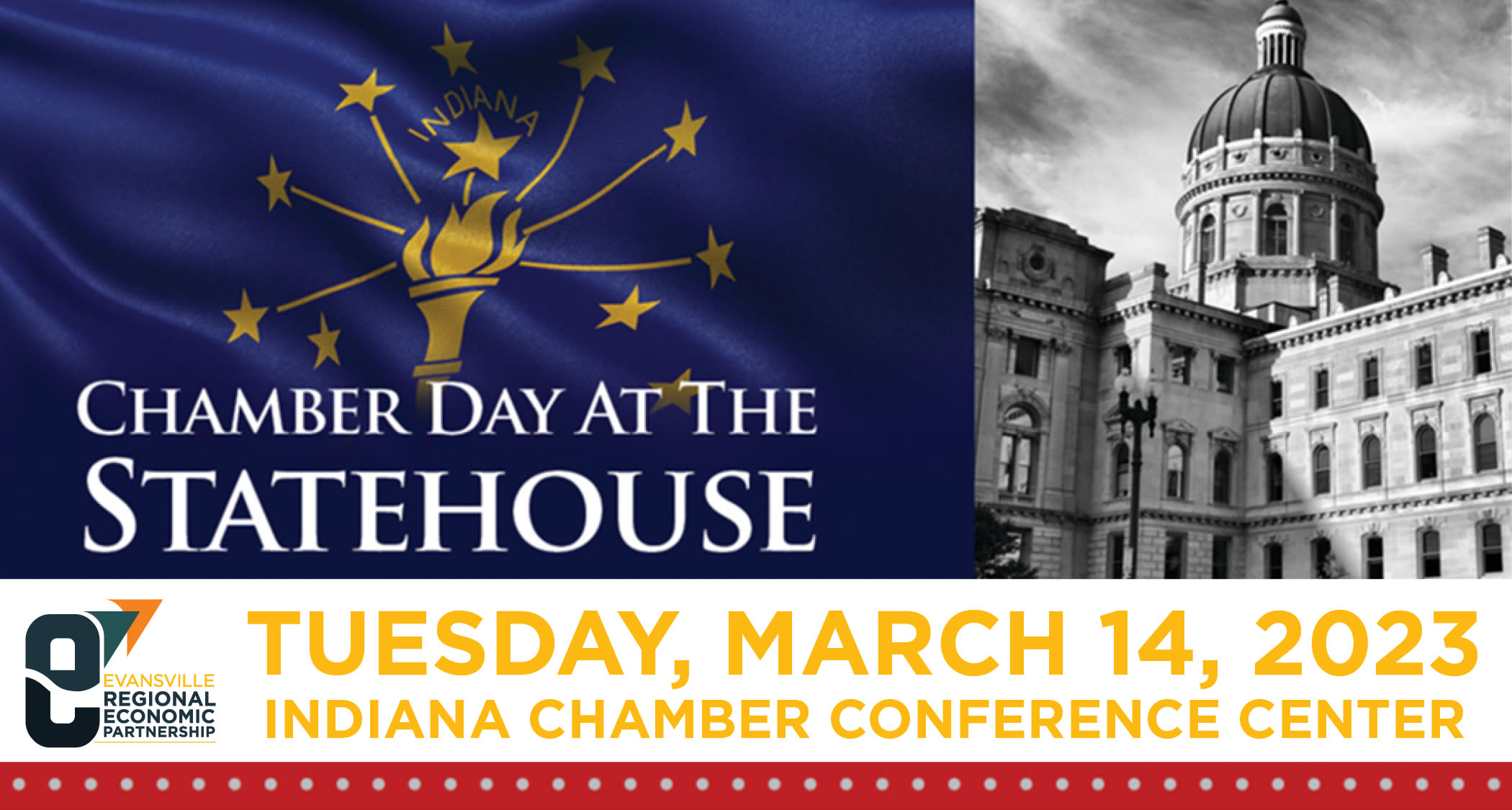 Please join Audrie Burkett, Jenna Richardt and Sally Rideout for the 2023 E-REP Day at the Statehouse on March 14th. This year we are partnering with the Indiana Chamber of Commerce and the Indiana Chamber Executives Association for the events in Indianapolis. This is a great opportunity to interact with our delegation and other business and legislative leaders from across the state. Cost is $45/person. Spaces are limited.
AGENDA: (All times are EST)
10:15 a.m. – Meet with Lt. Governor Crouch, Room TBD
11:00 a.m. – Lunch program with speakers begins at the Indiana Chamber of Conmmerce Conference Center, 115 W. Washington Street, Ste 850-5, Indianapolis, IN
3:15 p.m. – Meetings with SW IN Legislators - we'll set times as SW IN legislators are available
4:15 p.m. – E-REP Networking, Capital Grille (60 W Washington Street, Indianapolis SW IN legislators are invited to join the group)
OPTIONAL: 6:00 p.m. – ICC Chamber Day Reception & Dinner
ICC Chamber Day Reception & Dinner – William R. Kenan, Jr, Distinguished Professor of strategy and entrepreneurship in the Kenan-Flagler Business School and director of the Urban Investment Strategies Ctr in the Frank Hawkins Kenan Institute of Private Enterprise is speaker, legislative awards presented. For more information about the reception and dinner, please click the following link - Link to Indiana Chamber Day Dinner Reception & Dinner cost is $99/person.
Full details on specific locations will be shared after registering.
Please register no later than Thursday, March 9, 2023.
We hope you can join us to remind our colleagues from across the state what an impactful, effective region we have in Southwest Indiana.
Pricing
$45 for Lunch only
$144 for Lunch and Dinner
Indiana Chamber of Commerce Conference Center
115 W. Washington Suite 850-S



Indianapolis

,

47204

United States



Indiana Statehouse
Indianapolis, Indiana
Tuesday, March 14, 2023 (11:00 AM - 4:00 PM) (EDT)
March 14, 2023 11:00am -4:00pm EST
Categories
*Advocacy & Public Policy Events
*Evansville Regional Economic Partnership Events